SHR hair removal machine
SHR hair removal machine with an in-motion method is an innovative technology for pain-free hair removal, making it easier than traditional waxing, and releasing hairy trouble. Reach deeper depths even stubborn hair, such as light color hair and fluff. With SHR technology, hair removal/skincare is painless, easy and time-saving.
SHR is short for super hair removal, which is the fastest for hair reduction in the market. The SHR hair removal treatment is not only efficient for hair reduction, but also works on skin rejuvenation, pigmentation removal acne treatments and vascular treatments.
High-quality Germany UK imported xenon lamp, 1 million shots.
Fast treatment, one shot=10 SHR pulses.
Friendly software design for end users.
The display language can be set to your actual needs.
ABS material casing looks very beautiful and professional.
Italy imported high-quality power supply, energy intensity is strong and continuous.
Permanent, pain-free and fast hair removal treatments.
Japan imported water pump, provides the best cooling effect.
Unique design, OEM/ODM requirements accepted
Professional factory, support selling only kits (without machine case) for foreign factories.
We can offer the OEM/ODM services of our products. The product can be customized according to your personalized requirements, including the brand, label, painting colors, and packing box. Please offer your design documents or tell us your ideas and our R&D team will do the rest.
How does SHR hair removal machine works?
Unlike traditional IPL hair removal, SHR hair removal machines use 650nm-950nm to heat up the hair follicle. It works by gradually heating the dermis to a temperature that effectively damages the hair follicles, preventing them from growing back, while without damaging the surrounding skin.
SHR light can efficiently heat the follicle of hair, and hair follicles selectively achieve the SHR light. Like this, the hair structure is damaged originally and no grow anymore. At the same time, no harm to other issues brings a comfortable hair removal experience.
SHR uses high frequency(1~10Hz) but with lower energy which accumulates to reach the energy required to remove hair. Which uses a special 690~950nm SHR filter to make sure the safety treatment. IPL SHR was found to be the most effective and painless hair removal treatment on the market.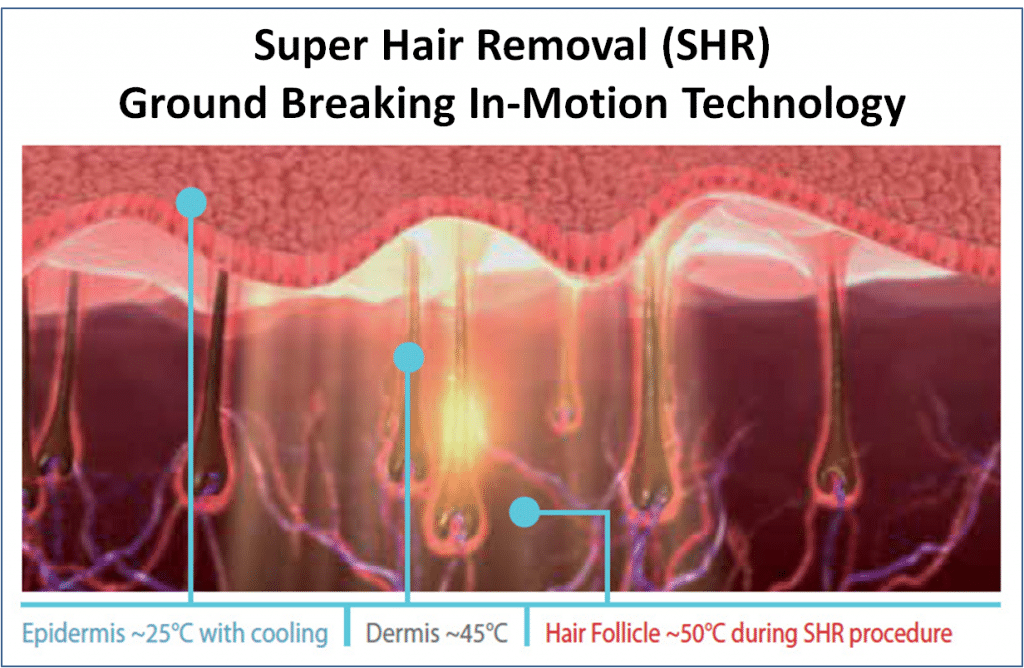 What is SHR hair removal?
SHR hair removal is a popular hair reduction treatment. SHR means super hair removal, means the hair removal by SHR technology is much faster, painless and more effective. This SHR treatment is especially in Singapore, Australia, Malaysia and some European countries. Super hair removal delivers low energy light by a fast pulse method which could achieve 10 Hz. (10 shots in 1 second) . It is safer to target on the stem cells of any unwanted hair, helping prevent any regrowth. Compared to the previous hair removal treatments that use Laser and IPL (Intense Pulsed Light), Super Hair Removal (SHR) is faster, gentler and more effective.
Why SHR is better than traditional IPL?
SHR made it safer for dark and black skin laser treatment. When we talk about IPL, it is a good manner to remove hair and pigmentation. However, the application is limited for dark and black skin. The dark skin has a lot of melanin in the epidermis, when we deliver the IPL energy to the skin, it has risk for burning. SHR is the perfect solution for dark skin hair removal
SHR VS IPL
| | | |
| --- | --- | --- |
| Technology | SHR | IPL |
| Speed | 10Hz, 10 shots in 1 second, faster hair removal | Slower hair removal, pulse can not shoot quickly |
| Shooting method | Super hair removal, handpiece can slide on the skin quickly | Shot one by one |
| Application | All skin types including black and dark skin | Skin type I to IV only |
| Energy | 1-26J/cm² | 1-50J/cm² |
| Lamp lifetime | 1 millions shots | 300,000 shots |
Why SHR hair removal?
SHR stands for Super Hair Removal. It's an advanced technology for permanent hair reduction. SHR is a sweeping success method of pain-free treatment.
650nm – 950nm wavelength
AFT + In-motion technology
Low investment, high profit.
Super cooling
Long term results
Pain-free hair removal
Fast treatment time
| | |
| --- | --- |
| Product name | SHR hair removal machine |
| Power | 3500W |
| Energy | 1-26J/cm2 |
| Display | 10.4 TFT true color touch screen |
| Frequency | 1-10HZ |
| Handles | 2 handles |
| Spot size | 18*50mm/ 12*30mm |
| Cooling system | Air cooling + Water cooling + Sapphire cooling |
| Working mode | Normal mode and Super mode |
| Treatment time | 1 – 30 minutes |
| Voltage | 100V-240V, 50Hz/60Hz |
| Packing size | 54cm * 62cm * 131cm |
| Gross weight | 78KG |
Spare parts List
| | | |
| --- | --- | --- |
| NO. | SPARE PARTS | Quantity (pcs) |
| 1 | Host | 1 |
| 2 | Handles | 2 |
| 3 | Filters | 5 |
| 4 | Switch | 2 |
| 5 | Handles bracket | 2 |
| 6 | Operator goggle | 1 |
| 8 | Patient goggle | 1 |
| 9 | Power supply line | 1 |
| 10 | Water funnel | 2 |
| 11 | Foot pedal | 1 |
| 12 | Fuse | 3 |
| 13 | "O" type sealing | 8 |
| 14 | Screws | 8 |
Application
Hair removal
650nm-950 SHR pulse light directly works on the pigment of the follicle of hair. Results in the hair you have to fall out, remove fundamentally all unwanted hair.
Acne/skin rejuvenation removal
Special 480nm-1200nm wavelength selectively destroys pigment cells and dramatically reduces the visibility of acne scars. Aiming to create more uniform, even skin tones.
Pigment removal
530nm-1200nm pulse light efficiently removes epidermis and dermis pigment, such as freckles, pigment sourced from cosmetics, sun spots, age spots, chloasma, etc.
Vascular removal
590nm-1200nm pulse light and heat are working on unwanted cells (Lysis) without damaging other cells. The heat of the light minimizes or removes unwanted spots and discolorations, dismissing vascular till invisible.
What is the cost or price for a SHR hair removal treatment?
The super hair removal course price ranges according to the technology, sessions and other factors.
The cost is related to the skin types, hair types and treatment areas
Every patient has different skin and hair conditions. The price will be different such as the area to be treated and the degree of hair density is different. Typically, a large area such as back and legs need more flashes of IPL laser, so the cost will be higher. The number of treatments required will vary. Therefore, there is a difference in the price of treatment. Black or dark skin need lower parameters and need more care in case of burning. The fine hair or thin hair is difficult to remove as the melanin in the hair follicle is less. This is why personal factors are also an important determining aspect of how much the price is.
The technology and equipment you use will affect the price
A good SHR hair removal machine use a more advanced system with sapphire crystal, UK or Germany import lamps and high performance power supply. That is why a good SHR hair removal machine has a higher cost. In general, professional hospitals use international advanced equipment to ensure the effectiveness and safety of the treatment. Therefore, the price of ice point laser hair removal will be a little higher than that of a normal hospital.
The cost is related to hospital specialists
The physicians at regular professional hospitals are highly trained and have a wealth of clinical experience. The results and safety of laser hair removal are also more guaranteed when performing the treatments.
The cost is not the same for different countries and cities
Generally, the price for a Super hair removal treatment will be different for different countries and cities. However, we still have the suggest treatment pricelist for your reference.
Suggest SHR hair removal price list
| | | |
| --- | --- | --- |
| Treatment area | Price (USD)(Single treatment) | Price(USD)(6 sessions treatment) |
| Upper lip | $100 | $500 |
| Chin | $80 | $400 |
| Face | $150 | $800 |
| Armpits | $100 | $500 |
| Arms | $120 | $650 |
| Chest | $150 | $800 |
| Belly | $150 | $800 |
| Back | $180 | $1,000 |
| Bikini | $130 | $700 |
| Lower thigh ( both ) | $250 | $1,350 |
| Upper thigh ( both ) | $250 | $1,350 |
SHR hair removal procedure
When you decide to start your SHR hair removal treatment, be aware of the procedure and the points you should take care in advance.
Before SHR Laser Hair Removal
Take a Photo: Take a photo before so you can compare the results after the treatment finished.
Shave the hair: We should shave the hair before the treatment, or it may burn you skin during the treatment. SHR Laser Hair Removal works best during the active anagen growth phase hence no plucking, tweezing or waxing minimum 3 weeks prior to treatment. MUST shave all areas one day/night before treatment.
Stop some behavior: Sun exposure must be avoided. Fake tans minimum 2 weeks before treatment, must not have any remaining residue at time of appointment to avoid potential burns or irritation.
Protect Skin from direct sun exposure for 2 weeks prior to treatment.
Hygiene: SHR in the brazilian or bikini area will not be performed during a menstruation cycle. Please use the sanitising wipes and tissues provided in the SHR Laser room prior to treatment.
During the SHR laser hair removal
During the procedure, the doctor will apply a the IPL gel and adjust the right parameters for your treatment. They will ask your feeling to adjust the best treatment parameters. The SHR handpiece will move and slide quickly on your skin. Typically, a SHR hair removal cost around 20 minutes.
Suggest parameters for SHR hair removal
Skin type
Working mode
Power
Pulse width
Pulse number
Timer
Ⅰ
In motion HR
18-24J/cm2
12–14ms
5-7Hz
10-20S
Fixed-point HR
16-22J/cm2
9–11ms
3-4Hz
1S
Ⅱ
In motion HR
16-22J/cm2
11-13ms
5-7Hz
10-20S
Fixed-point HR
15-20J/cm2
9–11ms
3-4Hz
1S
Ⅲ
In motion HR
14-18J/cm2
8-10ms
5-7Hz
10-20S
Fixed-point HR
12-18J/cm2
8–10ms
2-3Hz
1-2S
IV
In motion HR
13-18 J/cm2
7–9ms
7-9HZ
10-20S
Fixed-point HR
9-13 J/cm2
6–8ms
1-2Hz
2S
V
In motion HR
12-16 J/cm2
6-8ms
8-10Hz
10-20S
Fixed-point HR
7-11 J/cm2
4–6ms
1Hz
2-3S
Notcie:
For SHR treatment, please follow the treatment parameters above.
For OPT E-light treatment, there is suggest parameters after you set the gender, hair color, hair type. You can enhance the energy if the patients could accept.
Most important, ask clients feeling during treatment and then adjust the enegy..
How do I know if the SHR hair removal treatment really works?
To achieve the clinic end-point of hair removal, it should be:
There is a smell like burnt food
There is red papule around the hair follicle
The hair is easy to pull out by tweezers
After SHR Laser Hair Removal
In order to minimize any potential side effects, individuals who've just undergone an SHR photofacial should:
immediately apply moisturizer and a full spectrum sunscreen of protecting against UVA and UVB rays.
Wear full spectrum sunscreen of protecting against UVA and UVB rays, every day on the treated area for at least 30 days (failure to do so can result in complications and skin damage)
Avoid the sun as much as possible for the duration of the treatment plan as well as the next 30 days following the final IPL photofacial treatment
Avoid applying foundation or powder makeup immediately after the treatment session, if possible.
Don't take hot baths for 48 hours following treatment (hot showers not recommended either, hot water must not touch the treated area, warm showers are fine)
Don't engage in strenueous exercise that produces perspiration for 48 hours in order to avoid infection.
Don't scratch or pick treated area to avoid infection
As with pre-treatment measures, avoid using any form of Vitamin A acid for the duration of the treatment plan, including retinoic acid, glycolic acid, tretinoin (Retin-A) and alpha-hydroxy acids
As with pre-treatment measures, avoid using Accutane moisturize frequently
How to perform a SHR hair removal treatment?
the biggest factory behind the Brands
VIVA concept technology is a high-tech enterprise devoted to R&D, producing and selling high-quality beauty machines include HIFU machines, diode laser machines, IPL machines, etc.
We are the factory behind the beauty brands. We have offer products and service for over 73 countries all over the world.
"Innovation", "aesthetics" and "technology" are the main principle of VIVA. We sincerely hope to offer best products and services for overseas customers.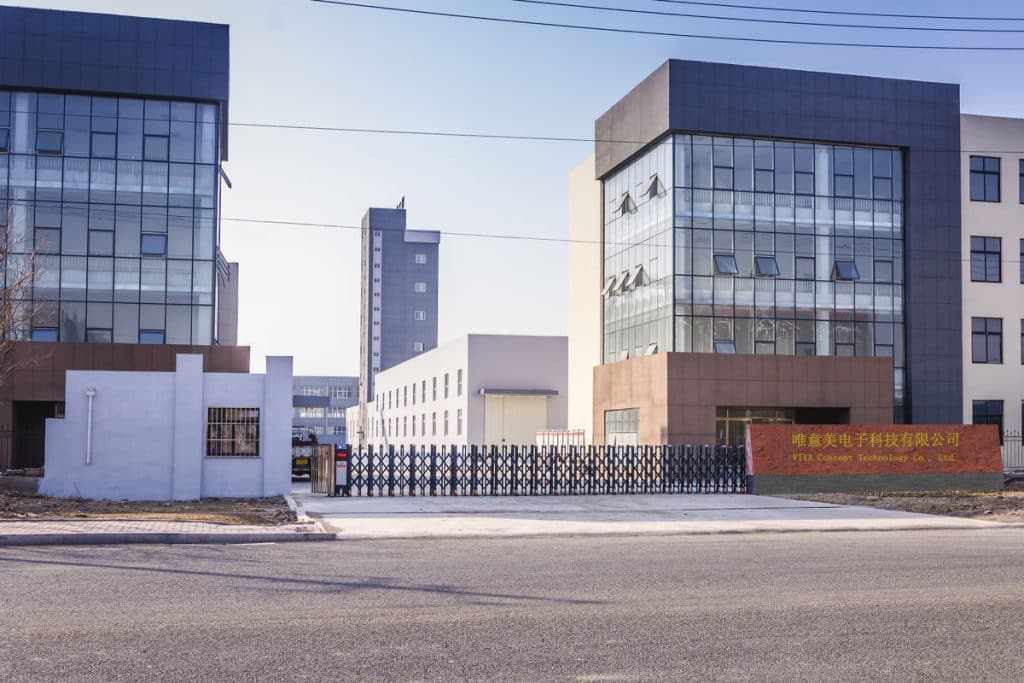 One-Stop Solutions
We provide one-stop solutions for spas, clinics, distributors and factories all over the world.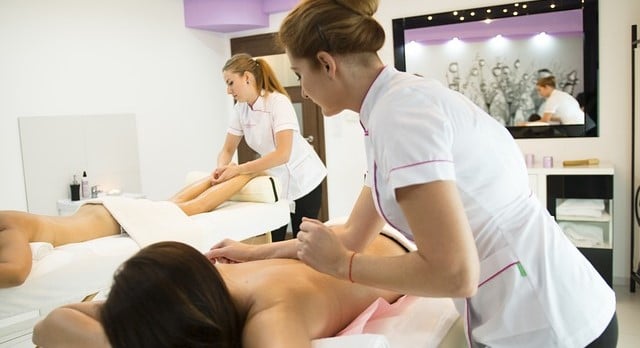 Solutions for spas and clinics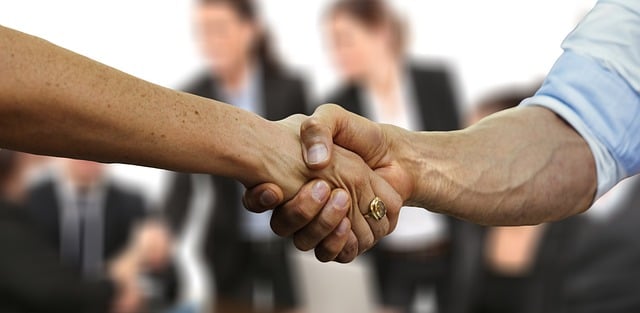 Solutions for distributors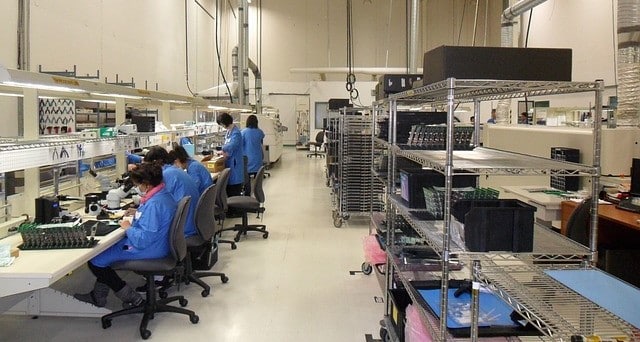 Solutions for Factories
Related Article: Hair Removal
Certifications
As one of the leader beauty machine manufacturer in China, we have got the certifications according to different country rules. We have CE (Directive 93/42 EEC, EMC Directive 2014/30/EU, and LVD Directive 2014/35/EU), CFS, CFDA, RoHS (Directive 2011/65/EU) certification and even though the rules for Brazil Anvisa.
All the machines import from our factory are highly quality and safety guaranteed. What's more, we could also offer the training certification for spas and clinics which help their approval for using these professional beauty machines.