Coolsculpting machine
Coolsculpting machine with fat freezing technology is also based on cryolipolysis technology and improved by 360-degree surrounding applicators. The treatment allows fat reduction process from head to toe, including the double chin, arms, legs, belly, waist and back.
With 360 degrees surrounding the cooling system, the coolsculpting machine is efficient and safe for any angel and any spot. Radiofrequency works during the coolsculpting process and helps to warm the skin to prevent the body from burning by the low-temperature treatment.
The whole procedure is safe and non-invasive, leaving the skin tightening and a little redness after the treatment. Most patients could achieve a 2 to 4 inches fat loss after full sessions.
Advanced 360-degree surrounding cooling at any angle and any spot
Body slimming treatment from head to toe
4 pcs of applicators could work at the same time
7 different treatment cups to meet all the requirements of weight loss
Unique applicator for double chin fat removal
A permanent results and will not Rebound
Vacuum + RF + LED + cryolipolysis 4 in 1
Unique design, OEM/ODM requirements accepted
Professional factory, support selling only kits (without machine case) for foreigner factories.
How much does a coolsculpting machine cost?
The cost or price for a professional coolsculpt machine is depending on the machine design, handpiece numbers, treatment heads numbers, cooling technology and etc. We offer a series coolscupting machine for your option.
| Machine photo | Applicators | Treatment heads | Design | Price (USD) |
| --- | --- | --- | --- | --- |
| | 2 pcs applicators working at the same time | 6pc (Wing mini, Wing, Arct, Flat Mini, Flat and Wing plus) | Portable 2 handles cryo slimming machine | $2,500-USD4,500 |
| | 4 pcs applicators working at the same time | 6pc (Wing mini, Wing, Arct, Flat Mini, Flat and Wing plus) | Portable 4 handles cryo slimming machine | $3,500-$5,500 |
| | 2 pcs applicators working at the same time | 6pc (Wing mini, Wing, Arct, Flat Mini, Flat and Wing plus) | Vertical 2 handles cryo slimming machine | $3,000-$5,000 |
| | 4 pcs applicators working at the same time | 6pc (Wing mini, Wing, Arct, Flat Mini, Flat and Wing plus) | Vertical 4 handles cryo slimming machine | $4,000-$6,000 |
We can offer the OEM/ODM services of our products. The product can be customized according to your personalized requirements, including the brand, label, painting colors, and packing box. Please offer your design documents or tell us your ideas and our R&D team will do the rest.
What is a coolsculpting machine?
Coolsculting machine is a device which use cryolipolysis or fat freezing technology which targets the fat cells on the body. Coolsculpt works on non-invasive and non-surgical fat reduction and body sculpting. The best cool sculpt machine combines Cryo, vacuum, temperature control, RF, and LED in 1 unit. A good cryolipolysis machine has 6 types of applicators for different body areas.
How does coolsculpting machine work?
Coolsculpting machine with 4 sizes applicators uses a low temperature (under 0 °C) to cool the skin and destroy the fat cells in the body. With vacuum technology, the applicators suction the target area tightening, and generate the freezing temperature to the fat layer. When the fat cells are in a cooling environment that is precisely controlled, they will begin to do natural decomposition and clearance, to make the fat layer become thinner gradually.
With selective types of applicators and controlled temperature, the 360 coolsculpt machines can eliminate fat cells in a particular part of the body, such as the tummy, thighs, or arms. Patients are required to sit for up to two hours while cooling paddles suction the skin and crystallize fat cells.
The whole procedure passes the following 4 phases:
Panniculitis: With different sizes of cooling applicators, the 360 coolsculpting machine touches on the treatment area well where fat deposits are present upon contact.
Apoptosis: The applicators are starting to work and freeze the fat cells gradually.
Phagocytosis: The dead cells which were destroyed by the freezing technology are consumed by phagocytes and processed through the body's metabolism.
Recovering: The body itself starts to recover after treatment, and the redness and swelling begin to disappear several days after the treatment.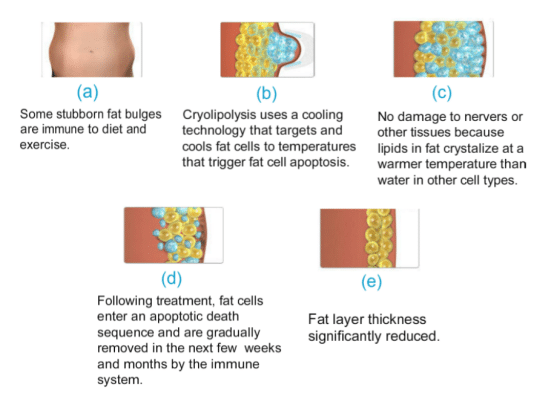 Working principle after connect the applicators
The ideal temperature is from -5 ℃ to -11 ℃ which can induce adipocyte apoptosis is cooling energy to achieve non-invasive and powerful lipid-lowering. Different from adipocyte necrosis, adipocyte apoptosis is a natural form of cell death. It's to maintain the stability of the internal environment. Cells die in an autonomous and orderly manner, thereby effectively reducing fat cells without causing damage to surrounding tissues.
Where the fat cells final go?
After the cryo sculpting procedure, the fat cells killed by apoptosis are absorbed by macrophages and are excreted from the body as waste products through the body.
Why coolsculpting?
Coolsculpt is an advanced non-invasive and non-surgical treatment for removing unwanted fats. It's the most effective method for weight loss instead of exercise and a diet.
360 surrounding cooling fat freezing
Any spot, any angel
4 applicators
Clinical proven results
Zero downtime and recovery
| | |
| --- | --- |
| Product name | Coolsculpting machine |
| Technology | 360 coolsculpt + LED + RF + Vacuum |
| Temperature | Lower than -10 °C |
| Display | 10.4 TFT true color touch screen |
| Frequency | 1-10HZ |
| Applicators | 4 |
| Heads of the Applicator | 7 |
| Cooling system | Air cooling + Water cooling |
| Vacuum | 10Kpa – 50 Kpa |
| Treatment time | 1 – 60 minutes |
| Voltage | 100V-240V, 50Hz/60Hz |
| Packing size | 72cm * 55cm * 118cm |
| Gross weight | 98KG |
Spare parts List
| | | |
| --- | --- | --- |
| NO. | SPARE PARTS | Quantity (pcs) |
| 1 | Host | 1 |
| 2 | Applicators | 4 |
| 3 | Cups | 7 |
| 4 | Switch | 2 |
| 5 | Applicators holder | 4 |
| 6 | Anti-freezing membrane | 20 |
| 10 | Water funnel | 2 |
| 11 | Power line | 1 |
| 12 | Fuse | 10 |
| 13 | "O" type sealing | 8 |
| 14 | Screws | 8 |
Coolsculpting technology & advantage
Fat freezing technology
The coolsculpting machine adopts the fat freezing technology to crystal the fat cells.
People may suffering with stubborn fat even after jogging and dieting.
The Coolsculpting machine suctions your skin and subcutaneous layers.
Cooling energy then freezes fat deposits to induce apoptosis.
Crystallized fat cells die off through the body's natural metabolism.
Remaining fat in the target area becomes leaner and less dense.
Combine with your healthy regimen to look slimmer and confident.
Advanced 360° surrounding cooling technology
360° surrounding cooling technology ensures the cooling power for coolsculpt could delivery to the full treatment area evenly. It means the whole body area was treated by the cooling which is safer and effective than traditional cryolipolysis machines. Traditional cryo slimming machine only has 2 pcs of the cooling plate on the 2 sides of the machine, means the 2 sides targeted area is cooled but other areas (such as front and back) can not be freeze directly.
4 pcs of handle working at same time
Our coolsculpting machine has 4 handpiece in one unit. The four handpiece are controlled by independent system. They could work alone, and the 4 handpiece could work at the same time as well. This design helps the machine can treat two persons together, or do 4 body parts for 1 patient in 1 time.
6 sizes treatment heads for different body area
The coolsculpting machine offers 6 treatments for customers. These different size help the operator to treat the patient at any angel and any spot.
| Treatment heads | Photo | Size | Treatment area |
| --- | --- | --- | --- |
| Wing plus | | 224mm*83nn | Abdomen and back |
| Wing | | 163mm*55mm | Flanks, abdomen,Love handles and below buttocks |
| Wing Mini | | 77mm*29mm | Double Chin and Axilla |
| Flat | | 137mm*52mm | Inner Thighs and back |
| Flat Mini | | 72mm*24mm | Double chin, Axilla, back and knees |
| Arc-T | | 147mm*144mm | Inner and outer thighs |
 360° surrounding cooling vs two sides cooling
What can the coolsculpting machine do?
Coolsculpting is using advanced fat-freezing technology and target body fat reduction and skin tightening. With 360 surrounding technology, this treatment is for any spot and any angel. Coolsculpting machines can reduce the treated fat layer by up to 20%-30%. The best results will be noticed after half a year. After being frozen, the dead fat cells are excreted out of the body through the liver within several weeks of treatment, revealing full results of fat loss within three months. Coolsculpting can do fat removal from head to toe including the face, neck, double chin, arms, thighs, abdomen, buttock, love handles and etc.
Coolsculpting for Thighs application
The anterior and lateral areas of the thighs are mainly composed of muscles, and their tension is strong. The vacuum suction function of the general cooling probe can cause severe pain and bruising, and the muscle layer is thicker. The cooling energy is not evenly distributed, and the energy cannot be concentrated on the fat layer, resulting in poor curative effect. There are also non-adsorbent cooling probes on the market that are attached to the surface of the thigh, and the general response is not good. Thigh shaping and fat reduction need to be perfectly focused on the lower layer of the skin fat, in order to achieve the true meaning of the leg contour.
Solutions-Using the Arc-T applicators for the Thigh
The outer and inner depths of cartridge 6 probe(the Arc-T) are specially customized to achieve the optimization of thigh fat reduction → avoid bruises and redness, and cover 2 times the area at one time. The Arc-T Cartridge 6 probe has a wide and flat U-shaped area, covering an area of 55 cm in circumference.
How to design the treatment area for cool sculpt procedure?
The patient's standing state is designed to accurately check the fat accumulation.
Designing the target area to focus on the parts with more fat.
Determine where the fat is concentrated, and flexibly move the design to draw the active part.
Considering factors of the operating design plan :fat thickness, uneven curve and length of the treatment area.
Covering a large area of action, effective and long-lasting adsorption.
Acting on the front, back, outside and inside of the thighs.
Check and palpate the target treatment area.
Mark the treatment area with a line pen.
Leave 1 inch at the mark(Due to negative pressure adsorption)
Application
Body firming from head to toe
Weight loss
Body skin tightening
Double chin fat removal
Coolsculpting for double chin

Coolsculpting for arms

Coolsculpting for love handles

Coolsculpting for stomach

Coolsculpting for thighs

coolsculpting mons pubis

Coolsculpting for back fat and bra fat
How much does a coolsculpting treatment cost?
The price or cost for a coolscupting procedure is depending on the device you use and the body treatment area. Here is a recommend pricelist for coolsculpting.
| | | |
| --- | --- | --- |
| Treatment area | 1 session price (USD) | 4 sessions price (USD) |
| Double chin | $800 | $3,000 |
| Arms | $1,200 | $4,500 |
| Thighs | $1,800 | $6,800 |
| Love handles | $1,500 | $5,600 |
| Abdomen | $1,800 | $6,800 |
| Back & Bra fat | $1300 | $5,000 |
| Mons pubis | $1,000 | $3,800 |
| Buttocks | $1,600 | $6,000 |
Coolsculpting procedure
CoolSculpting is a non-surgical weight loss and body sculpting procedure which uses cold temperatures to kill fat cells near the surface of the skin. Experts who perform CoolSculpting say the results can be unpredictable. The treatment gives amazing results and is suitable for all skin types. So what we should prepare for this treatment and what you could expect from a coolsculpting? Here is the detail introduction to these treatments.
Before coolsculpting
Generally speaking, we don't need to prepare too much for your CoolSculpting procedure. It is a non-invasive and non-surgical procedure. But at least to keep your body healthy and close to your balance weight. Understanding that bruising from the suction of the applicator is common after CoolSculpting, so don't take anti-inflammatories such as aspirin before the procedure. This will help reduce any bruising that may occur. Another point is that take before photo so you could compared the photo after treatment to learning the results of your treatment.
Who is suitable for the coolsculpting treatment?
The coolsculpting procedure is for those people who want to lose weight and looking for a perfect body shape.
Understanding the side effects and risk in advance
Coolsculpting is an FDA and CE approved technology with strict clinical reports, it is safe and has very few chances to have a heavy side effects. The potential side effects include:
sensations of the vacuum
Uncomfortable for the cold
Chance for tingling
Risk for stinging
Pulling and over pressure
aching
Cramping
Redness and swelling
Bruising and tenderness
skin sensitivity
During the coolsculpting treatment
At the day of your treatment, the trained operator will use a professional coolsculpting machine to start your treatment. An anti-freezing membrane will put on the target area to protect your body from cold burning. The doctor will set the parameters and select the suitable applicator for the target areas. After this, the doctor will locate the handpiece in the target area and start the treatment. It lasts around 40 to 60 minutes. During the treatment, the operator will ask your feeling to make sure the procedure is safe and effective.
You may experience some feelings of pulling and pinching during the process, but the procedure involves minimal pain. The provider typically will massage the treated areas immediately after treatment to breakup any frozen deep tissue. This will help your body begin to absorb the destroyed fat cells. Some people complain that this massage is slightly uncomfortable. For the double chin area, the doctor will put a pillow to fix your neck and make you feel comfortable. After everything is finished, the doctor will take a photo for the target area and tell the points you should note.
After the coolsculpting treatment
As a non-invasive procedure, coolsculpting do not have downtime and your could resume to your normal life and work. Because the fat cells are frozen and killed, results in the treated areas may be noticeable in 1 month. The best results will be seen around 3 months later. 4 sessions are recommended to achieve the best results and the interval between each treatment is 45 days to 60 days. Most people say they got results about 20% to 30% fat loss.
Coolsculpting Contraindications
Don't treat the area with less blood circulation.
People who have had other surgical treatments recently.
People who have high blood pressure and heart disease.
Hernias.
Pregnancy or breastfeeding.
Patients wearing or fitted with an electronic device (such as an artificial pacemaker).
The area which has injury or wound.
360° surround cooling
360° surround cooling heat dissipation of Diamond ice sculpture is different from the traditional cooling method on both sides. The 360° surround cooling technology can increase the efficiency by up to 18.1%,allows cooling to the entire probe, how many area is adsorbed, how many area is treated, and the adsorbed area is frozen in a 360° omni-directional way without dead corners, resulting in more effective removal of fat cells.
Traditional cooling plate on both sides
The cooling module is only located on both sides of the treatment head, and only the two sides have a freezing effect.
Cool sculpt with vacuum suction vs non-negative pressure suction cooling plate
What is the difference between Coolsculpt, EMSculpt and Liposuction?
Coolsculpt
Coolsculpting is the non-invasive and non-surgical treatment to remove fat harmless. It using a low cooling temperature to freeze the fat cells and let it crystal, after that, the fat cells were killed. Because the fat cell numbers are decreased, the results are permanent and will not bounce back. Coolsculpt is supposed to be the best method to reduce fat and sculpt the body without surgery.
Liposuction
Liposuction is a surgical method which applies a hollow tube (as we name it a cannula) to reduce unwanted bulges through suction. The procedure is done by making small incisions to insert the cannula so that it may siphon out fat from the targeted areas. As it is a surgical and invasive treatment, liposuction, under anesthesia and requires a recovery period of about three days. A return to strenuous activity such as exercising may take up to three weeks following a liposuction procedure.
Emsculpt
Emsculpt is another non-invasive muscle toning and body sculpting technology. By using high-intensity electromagnetic technology, the patient can firm and tone their muscles, resulting in a tightened and sculpted look. The Emsculpt procedure is non-invasive, non-surgical and no-sweat treatment. It applies to improving the abdomen, buttocks, arms, calves, and thighs. (Even works on pelvic floor treatment and urine incontinence).
Coolsculpting VS Liposuction VS Emsculpt
| Technology | Safety | Downtime | Pain | Treatment area | Results |
| --- | --- | --- | --- | --- | --- |
| Coolsculpting | Non-invasive and Non-surgical | No downtime | Painless | From head to toe | Long term and can reduce around 25 inch fat layer |
| Liposuction | Invasive and surgical | Need to relax around 1 week | Painful and need anesthesia | Full body | Depend on the surgical procedure |
| Emsculpt | Non-invasive and Non-surgical | No downtime | Painless | Mainly for arms, thighs, abdomen and buttocks | More for muscle toning, fat reduction results is not as good as coolsculpting |
the biggest factory behind the Brands
VIVA concept technology is a high-tech enterprise devoted to R&D, producing and selling high-quality beauty machines include HIFU machines, diode laser machines, IPL machines, etc.
We are the factory behind the beauty brands. We have offer products and service for over 73 countries all over the world.
"Innovation", "aesthetics" and "technology" are the main principle of VIVA. We sincerely hope to offer best products and services for overseas customers.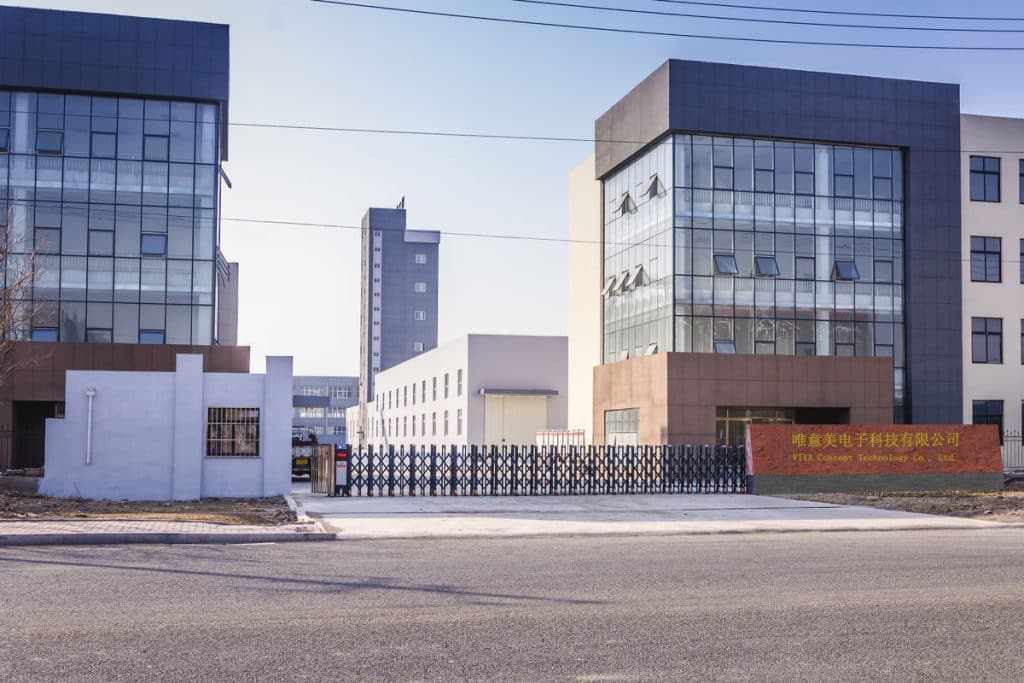 One-Stop Solutions
We provide one-stop solutions for spas, clinics, distributors and factories all over the world.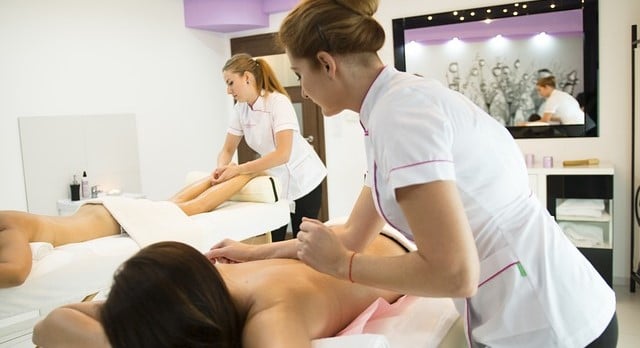 Solutions for spas and clinics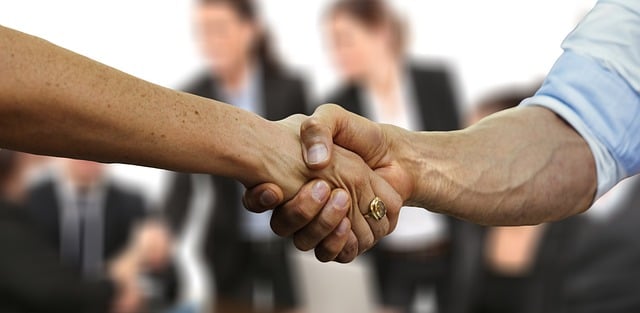 Solutions for distributors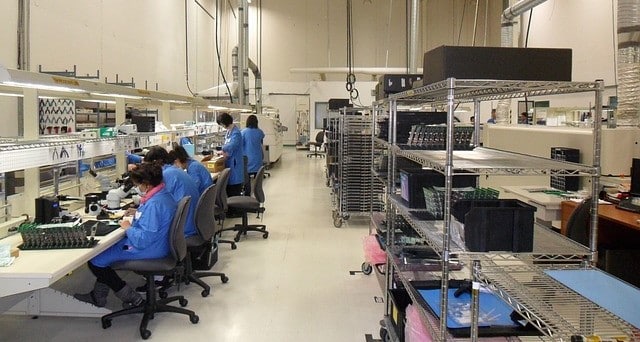 Solutions for Factories
Certifications
As one of the leader beauty machine manufacturer in China, we have got the certifications according to different country rules. We have CE (Directive 93/42 EEC, EMC Directive 2014/30/EU, and LVD Directive 2014/35/EU), CFS, CFDA, RoHS (Directive 2011/65/EU) certification and even though the rules for Brazil Anvisa.
All the machines import from our factory are highly quality and safety guaranteed. What's more, we could also offer the training certification for spas and clinics which help their approval for using these professional beauty machines.